Students of the Year Indianapolis
Jack Beahrs | Team Beahrs
This donation link expires at NOON on March 13th...but you can donate up until the Grand Finale by clicking here!
Check out our auction items (#700-706) and give Jack one more push by donating!
https://e.givesmart.com/events/kA6/i/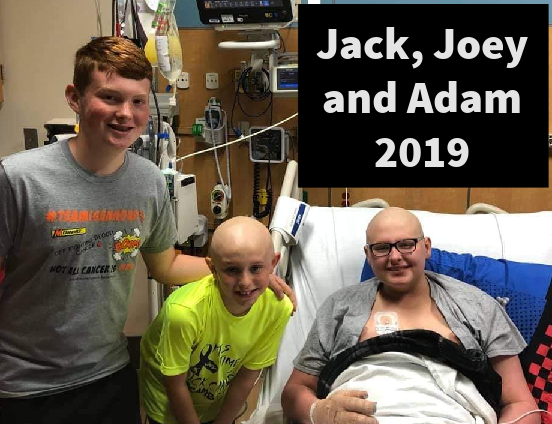 Thank you for visiting my fundraising page, welcome!  
Why am I raising money for the Leukemia & Lymphoma Society? I'll start in sequential order...
For my awesome cousin, Adam Isenhour.  Have you met him?  He's the most sincere, humble, generous, and absolutely hilarious teenager you would ever meet. He was also diagnosed on his 13th birthday in 2018 with Acute Myeloid Leukemia, a blood cancer.  He stayed in the hospital for almost 6 months to go through chemo.  Then he relapsed almost a year later, went through chemo again, and then a stem cell transplant.  He's 16 and doing well and still as humble, sincere, and generous as before.  Adam is also on my team!  You are welcome to check out his page: https://events.lls.org/in/indianasoy21/aisenhour3qg
Another why?  For my super cool little brother, Joey.  He's so funny, a great sport, super sensitive, very curious and quite possibly the best little brother I could ask for.  (Please don't tell him I said that!) In April of 2019, he was diagnosed with Hodgkin Lymphoma, another form of cancer. Joey went through outpatient chemo and kept going to school, played soccer, and tried to keep up with his friends. He didn't let cancer keep him down.  It was a trying time for our family but I have to admit, I think Joey was stronger than I may have been.  Joey is 12 now and back to his normal crazy self.  Joey is also on my team!  You are welcome to check out his page too: https://events.lls.org/in/indianasoy21/Joeybeahrs
Another why has to do with my Grandma Shirley.  She passed away at age 82 of lymphoma.  She lived greatly but I think she was taken too soon.
The final why for running for Student of the Year is selfish.  I want to win and get access to the scholarships and letters of recognition that the winners receive.  What an amazing journey this will be...raising money to fund research for LLS, something that has had such an effect on our family, in hopes that others don't have to experience this. I am also gaining the leadership skills that only running a campaign like this can get me as a sophomore in high school.
Will you help all of us win?
We are a team built for success!  A donation to any of us will help my campaign!
I encourage you to join me in supporting The Leukemia & Lymphoma Society (LLS) by making a donation to my fundraising campaign. By donating to LLS, you support the many facets of LLS's mission work from investing in groundbreaking research, providing education and support to patients, and advocating at the state and federal level for legislation to help those living with cancer. My appreciation for your support cannot be overstated — each and every dollar donated to LLS brings us closer to our goal to end blood cancer and makes an impact on cancer patients and their families.
As a global leader in the fight to end cancer, LLS is committed to doing more for blood cancer patients and families than any organization in the world. LLS's signature fundraising campaigns drive critical support for its mission, including a nearly $1.3 billion investment in cutting edge cancer research worldwide since it was founded in 1949. Since the 1960s, survival rates for many blood cancer patients have doubled, tripled, or even quadrupled.
Every facet of LLS's mission – research, education and support, and policy and advocacy – work in harmony to put blood cancer patients and their families first. LLS has helped millions impacted by cancer throughout its more than 70-year history, even funding breakthrough blood cancer research to advance lifesaving treatments and cures that is now helping patients with other cancers and diseases. That is why at LLS we say that beating cancer is in our blood.
Please visit my website as often as you can and share it with everyone you know who would also like to join us in the fight against cancer. Together, we have the power, the passion, and the resolve to achieve a world without blood cancer. All donations are tax-deductible.
On behalf of cancer patients and their families everywhere, I sincerely thank you for your support!
For more information about LLS, please visit lls.org