Student Visionaries of the Year South Bay
Neha Sambangi | Team Life Savers
     Hello! My name is Neha Sambangi and I am a junior at Palos Verdes Peninsula High School. I had the privilege of being nominated as a candidate for The Leukemia & Lymphoma Society's (LLS) South Bay Student Visionaries of the Year campaign. Student Visionaries of the Year is a seven-week leadership development program that runs from February 21st, 2023 to April 14th, 2023 to raise money and help support the LLS mission to cure leukemia, lymphoma, Hodgkin's disease, and myeloma, and improve the quality of life of patients and their families. 
     I have created a team of committed friends and family to partner with me on this journey. Together, we have set a fundraising goal of $100,000, and have chosen patient support as the LLS mission pillar to represent throughout our campaign. The money raised helps LLS, the largest nonprofit dedicated to creating a world without blood cancers, advance initiatives like providing crucial support for blood cancer patients and their families. LLS is the leading source of free information, education, and support for blood cancer patients, survivors, caregivers, families, and healthcare professionals, including one-on-one support, financial assistance, clinical trial placements, and more.    
     In 2022, I participated in the Student of the Year campaign as a team member under Team Triumph and I had the pleasure of raising $5,000 to help change the lives of many patients facing Leukemia & Lymphoma. This year, I would like to take leadership and lead a whole group of people to raise even more money in this campaign. My main drive to participate is to honor my grandparents, who passed away due to cancer while I was young. When cancer is defeated, it is a victory for everyone! My campaign will provide support to the critical work of LLS in hopes that one day no one will have to grow up without the ones they love. I know that with your help, I can reach my goal and make a direct impact in the fight against blood cancers. I thank you in advance for partnering with a campaign so close to my heart, and please remember, every bit counts!
Please consider joining this fight and donating to my page! Please share the word with all of your friends and family to urge them to donate!
There are two ways to make your tax-deductible contribution by April 14th, 2023:
Use the enclosed envelope and donation form to mail your tax-deductible contribution. Please make a check payable to "The Leukemia & Lymphoma Society" and print NEHA SAMBANGI  in the memo section. 

You can make a contribution online on our campaign website:  https://events.lls.org/calso/southbay/nsambangi
For more information about LLS, please visit https://www.lls.org/
​​​​​Thank you for all of your support!!!!!
​​​​​​​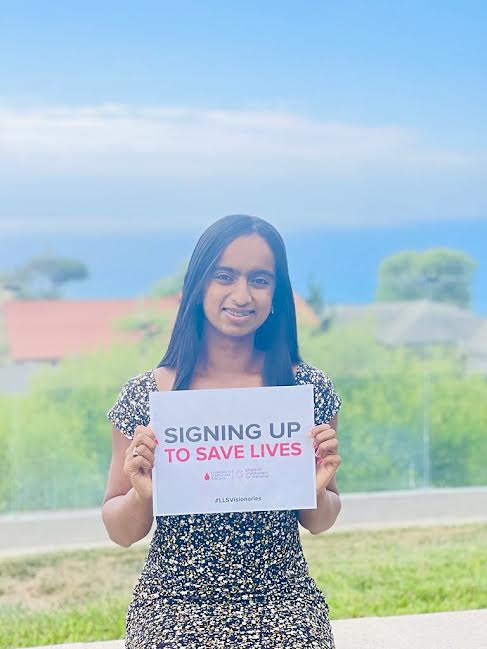 ​​​​​​​​​​​​​