Texas Gulf Coast Students of the Year
Mahi Tomar | Mahi Tomar 's Campaign Team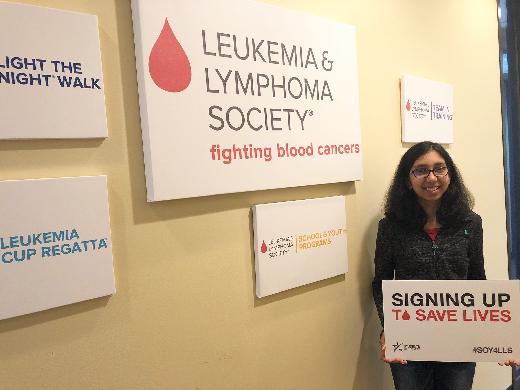 I am honored to say that I am a candidate for The Leukemia & Lymphoma Society's (LLS) Students of the Year national fundraising campaign. There are 41 national campaigns comprised of incredible students, competing for the title of "Student of the Year". I am writing today to ask for your support in helping LLS.
The Students of the Year campaign is a six-week initiative in which local high school students participate in a fundraising competition. The campaign kicks off on January 19th, and culminates with a grand finale celebration on March 2nd. The candidate who raises the most money at the end of the six weeks is named "Student of the Year".
Why did I decide to do this? Because I believe in LLS's mission: to cure leukemia, lymphoma, Hodgkin's disease and myeloma, and to improve the quality of life of patients and their families. The main way to do this is to raise money for more research. Clinical trials are a critical step towards finding a cure. One clinical trial alone can cost $30 million.
This campaign has already taught me to be more independent and pushed me to step out of my comfort zone to talk with potential donors. This campaign is a job, but it doesn't feel like work!
Every donation counts and with hope and support, I truly believe we can move a step closer to a cure so no parent, sibling or friend ever has to see their family member suffer again.
Aside from donations, we would love to hear from you or someone you know who would be willing to donate goods or services for auction items, sponsorships or tickets/tables to the Grand Finale Celebration on Friday, March 2nd. Please note: your donations are tax deductible. Large or small, your contribution to this worthy effort will be greatly appreciated.
For more information about LLS, please visit LLS.org, and if you would like more information please feel free to email me: <insert email>
On behalf of blood cancer patients everywhere I thank you for your support!
Sincerely,
Mahi Tomar
2018 Student of the Year Candidate