Student Visionaries of the Year San Antonio
Team CarterandClayton | Team Carter & Clayton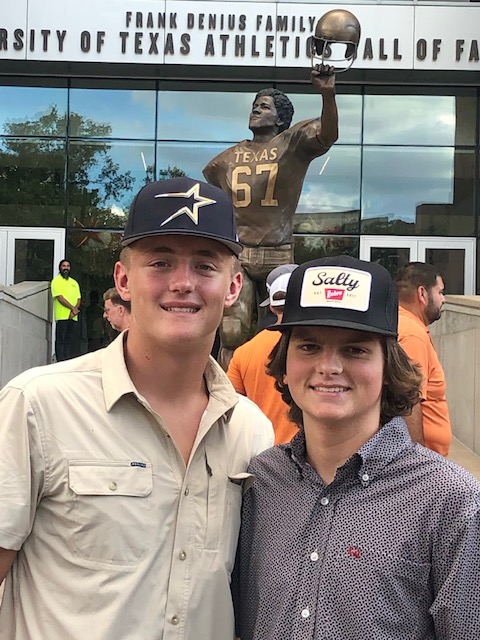 Visionaries look to the future—and see infinite possibility.
They challenge the status quo—and make the impossible possible.
They boldly imagine a better world – and lead the charge to create it.
The Leukemia & Lymphoma Society was built on that same vision - of a better world - one without blood cancers.
We  are vistionaries; We have a vision for a world without cancer, but we need your help.
​​​​​​​This year, we're proud to be a part of the Leukemia & Lymphoma Society's (LLS) Student Visionaries of the Year Campaign, working to raise as much as possible for LLS's mission.
OUR STORY…A little over 2 years ago Carter was diagnosed with T-Cell Acute Lymphoblastic Leukemia (T-ALL) and he continues his fight today. Clayton has been one of Carter's biggest supporters though this journey. Our friendship started through sports in elementary school and has strengthened through beating cancer together. This opportunity is very near and dear to both of us, and we both would like to help others the way that Carter has and continues to receive support from our community.
As we mentioned above, Carter's battle continues but he now sees the light at the end of the tunnel. As Carter continues his fight, he takes daily oral chemotherapy treatments, monthly intravenous treatments and receives quarterly lumbar punctures through all of 2023 with his end of treatment set for January 11th, 2024, otherwise known as the day, he gets to "Ring the Bell". When this day comes, we would love to have as many people celebrate with Carter and Clayton as he walks out of the hospital for the last day of treatment (more to come on that later).  The journey is tough and the more we can afford to assist other families going through what has arguably been some of the toughest times of our lives will help to ease some of their burdens. ​​​​​​
As a global leader in the fight against blood cancer, LLS:
Funds cutting-edge research leading to breakthroughs in immunotherapy, genomics and personalized medicine that are improving and saving the lives of patients
Provides free education and support for blood cancer patients and families, including personalized, one-on-one support, assistance with identifying and enrolling in clinical trials, and more.
Mobilizes thousands of advocates to drive policy changes that accelerate the development of new cancer treatments and break down barriers to care.
Please consider joining this fight by making a donation. All donations are greatly appreciated and tax-deductible. Please visit our website often and tell friends who would also like to donate!
Thanks to your support, my efforts will help ensure this generation is the last to see cancer.

On behalf of blood cancer patients everywhere, thank you!
​​​​​​​Carter & Clayton
For more information about LLS, please visit www.lls.org.
​​​​​​​