Students of the Year San Diego
Team Abuelos: Legacy of Life! | Team Abuelos: A Legacy of Life!'s Campaign Team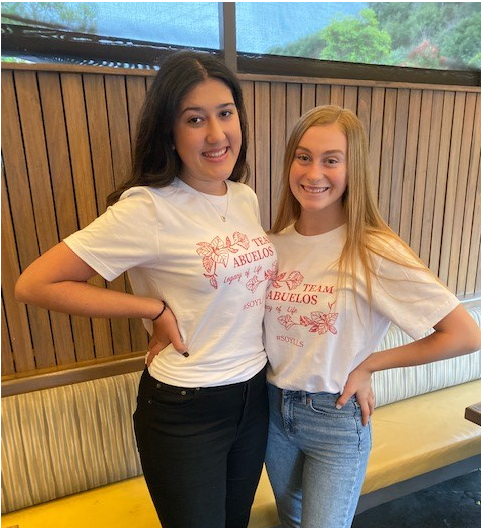 We are honored to participate in the 2020 Students of the Year campaign! We have been best friends since we were kids and are leading our fundraising team, Team Abuelos: Legacy of Life, to raise as much money as possible during these 7 weeks for the Leukemia & Lymphoma Society (LLS). 
We both know what it's like to lose a grandparent  to a blood cancer. Gianna lost her grandmother, Martha Kelly to Acute Myeloid Leukemia in 2019, and Isabella never got to meet her grandfather, Jose Luis Gallardo, because he passed away from Leukemia in 1991. So as you can see, we're running not only in honor of our grandparents but also to find a cure for blood cancer. Our wish is that no child should go through life without a grandparent or experience losing a grandparent too soon.
The meaning behind our team name is that "Abuelos" means grandparents and reflects the connection to the Mexican culture both Roberts and Kelly families have. Isabella's grandfather was a native of Mexico; and Martha had a deep appreciation for the Mexican culture was fueled by her relationships and experiences with friends and family in Mexico. "Legacy of Life" refers to all the lessons they have taught both of us, directly and indirectly. As an added underlying meaning, both grandparents loved to laugh - and the abbreviation of Legacy of Life is LOL! :)
Some facts about blood cancer and LLS you may not know:
Every 3 minutes someone is diagnosed with a form of blood cancer. More than 1.4 million people are living with or in remission from Leukemia, Myeloma and Hodgkin's disease

LLS has invested more than $1.3 billion into blood cancer research & provides financial support to patients

Over the last two years, LLS has helped advanced 46 of 52 FDA approved blood cancer treatments
In order to create a world without cancer, we need your help. Not only does each donation help find a cure for blood cancer, but it also helps us towards taking home the coveted title of Students of the Year in San Diego. We will be kicking off the 7-week fundraising competition January 16th and the winner will be announced at the Grand Finale on March 7th.
We appreciate it if you would support our efforts by giving a tax-deductible donation. Thank you for your support!
With love,
Gianna Kelly and Isabella Roberts