Student Visionaries of the Year Denver
Ayanna Cudennec | Team Fighting Cancer
Hi guys! To those of you who are on here donating, Thank you so so much. This cause means the world to me and to know I have your support is so heartwarming. Much love to all of you, I hope you're having an amazing day.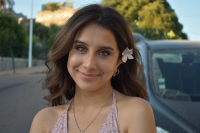 Dear Friends and Family,
I am incredibly honored and excited to be nominated to participate in the
Student Visionaries of the Year campaign for The Leukemia & Lymphoma Society. On January 12, 2023, we kick off our 7-week campaign ending on March 4, 2023, to help save lives by funding research for treatments and providing support for patients and families as they face the battle of blood cancer.
I haven't had personal relations to blood cancer specifically however, I have cancer survivors in my family, inspiring me and motivating me to put in as much effort as possible to this campaign. Additionally, I'm conducting my own research trying to treat skin cancer which has inspired my decision to fund LLS' research pillar.
LLS has opened up groundbreaking opportunities supporting patients with cancer. LLS has been key in advancing 75 percent of the blood cancer treatment options approved by the U.S. Food and Drug Administration (FDA) over the last five years. Not only this but LLS invests in the game-changing CAR T-cell therapy that has served as an incredible treatment option for patients.
My campaign to be the Student Visionary of the Year ends with the Grand Finale
Gala on March 4th, 2023. I'm so thrilled to help an organization that is
working to save lives daily and find cures, but I need your help! This is where you come in. You can
help by making a tax-deductible contribution on this fundraising website You can also mail in checks; they can be made out to the Leukemia & Lymphoma Society with my name
(Ayanna Cudennec) in the memo line and mailed to:
LLS Rocky Mountain at
720 S Colorado Blvd Suite 520-N; Denver, CO 80246.
What could be even better is if you could ask 
if your donation can be matched by your company. Please share this letter and my website with your friends and family by mail, email, or social media which will increase the impact of your donation; you never know who has a personal connection and are willing to join the fight against blood cancer and many other cancers. Know that every single donation matters so please support in any way you can. Thank you so much for taking the time to read this.
Thanks to your support, my efforts will help ensure this generation is the last to see cancer.

On behalf of blood cancer patients everywhere, thank you!
For more information about LLS, please visit www.lls.org.