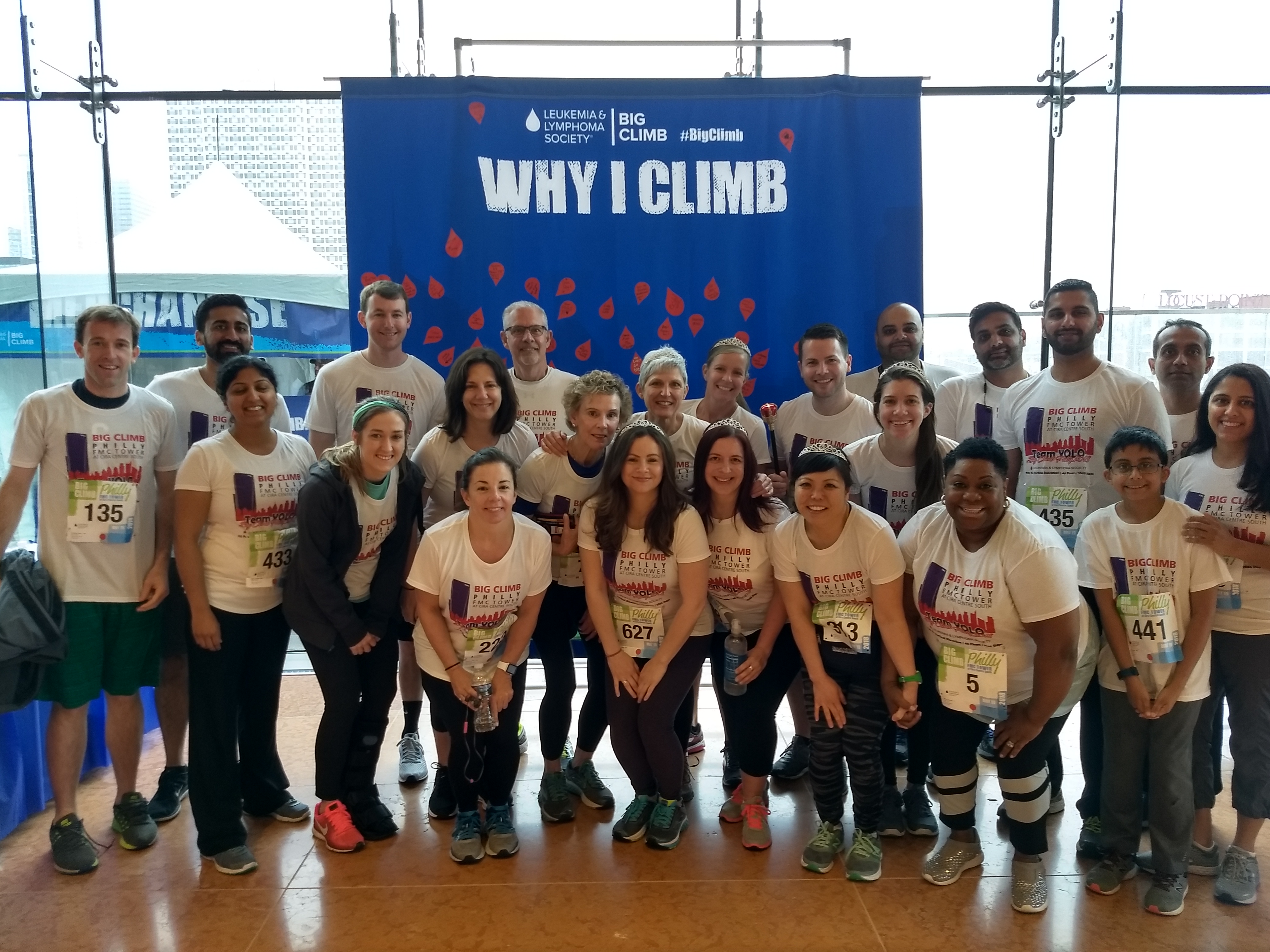 Team YOLO (You Only Live Once) will once again be participating in Big Climb Philly, scheduled this year for Saturday April 13th.  The event, sponsored by the Leukemia & Lymphoma Society (LLS), is an opportunity to get some great exercise while we also honor, and support, those we know who have been impacted by blood cancer.  
Last year our team raised over $17,000 and we are trying to beat that number in 2019! 
The details are below.  Let us know if you can join us or support us!
What is Big Climb Philly?  
It is the fourth annual LLS-sponsored stair climb to the top of one of Philadelphia's skyscrapers, the FMC Tower.  The climb is a fun, one-of-a-kind event, providing an opportunity for us to test ourselves as we climb 46 flights of stairs all the way to the top!  

It is also a fundraiser in support of the LLS mission: To cure leukemia, lymphoma, Hodgkin's disease and myeloma, and improve the quality of life of patients and their families.  This is personal for us – some of us are blood cancer survivors, and everyone on the team has a connection to someone who has either fought this disease themselves or supported someone who has.  There's a good chance you may know someone as well - every four minutes someone new is diagnosed with a blood cancer!
Where and When is the Big Climb?
Where: FMC Tower, Cira Center South, at 29th and Walnut.  

When: The morning of Saturday, April 13th
What Can You Do?  
Climb with us!  Don't think you can climb 46 flights of stairs?  Yes you can!

Raise $100.  Don't think you can fundraise?  Yes you can!  Ask 10 people you know to donate $10 dollars and you have it. Or make your own donation for the full amount and get the tax deduction. Of course, you don't have to stop there!

Support Team YOLO by making a donation in support of our efforts and the work of LLS.
 Whether you join or support Team "YOLO", you'll be making a real impact on the fight against cancer. THANK YOU