Portland Students of the Year
Team Cancer Crushers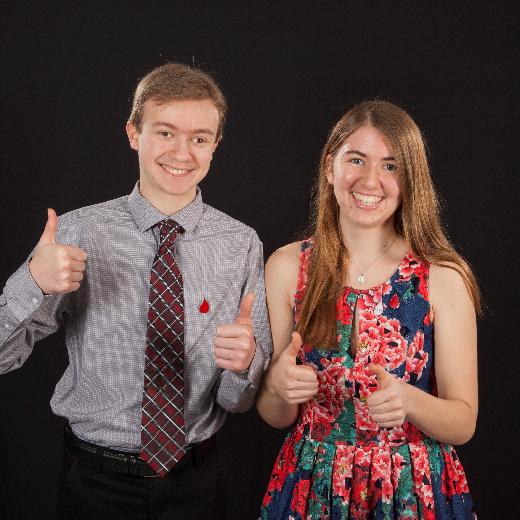 We are excited to announce that we have been nominated as candidates for the 2018 Student of The Year fundraising competition for the Leukemia & Lymphoma Society (LLS)! LLS's mission is to cure blood cancers and to provide services for patients and families along the way. LLS spends about $50 million each year seeking cures for blood cancers and because of their research, people have more streamlined treatments and a better chance of survival. We are honored to help raise money and awareness for this cause. Blood cancers have affected both of our lives, and we hope you will help us reach our fundraising goal to support LLS's fantastic work!
Celeste's story:
On my 5th birthday, I was diagnosed with acute lymphoblastic leukemia (ALL). If this had been 1975, I would have had a 3% chance of surviving. Thanks to LLS-funded breakthroughs, my odds when I was diagnosed were better than 80%. The day after I was diagnosed, I started 846 days of chemotherapy including 26 spinal taps, 22 blood transfusions, multiple surgeries, and much more. I got an infection related to bubonic plague and had so much bone damage from chemo that they thought I wouldn't be able to walk. While I am now considered cured of cancer, the effects of it are with me every day. When I was little I wasn't able to do the things other kids did. I always wanted to try sports, but was too sick to be able to play. In high school I finally joined the cross country team, but bone damage in my hips made it too painful to continue after the first year. School has always been harder for me because of my chemotherapy treatments. Writing is difficult because of nerve damage in my hands. It took me a very long time to learn to read because damage to my eyes makes tracking difficult. Even though I am healthy now, the effects of chemotherapy make living every day more difficult. LLS continues to research less invasive therapies so other children don't have to live with the side effects I have.
Henrik's story:
My name is Henrik Hunt, blood cancer has more than touched my life. On my 13th birthday, my mom was hospitalized and diagnosed with Multiple Myeloma, an incurable blood cancer. Since then, my mom has spent 23 nights in the hospital, 25 months of treatment, enduring many therapies including a stem cell transplant and a year of maintenance chemo just to keep her cancer suppressed. New drug therapies are crucial in keeping her alive...with the hope of someday finding a cure. This hope includes CAR T-cell immunotherapy that LLS has played a role in funding and advancing. I hope that one day I can say that my mom is cured.
Please join us in raising awareness and money for LLS and ultimately finding a cure for Henrik's mom!! We have until March 4th, 2018 to reach our goal of $15,000. Your donation of even $10 for example helps an LLS-funded researcher grow cells in a lab for one week to see how a new therapy may work. Also, each dollar you donate is a vote for us as Students of the Year, so please give as generously as you can. With your help, we can work towards finding a cure.