Students of the Year Cleveland
Mackenzie Schulz | Team Stand Up in Strongsville
I am so thrilled to tell you about an exciting challenge I am leading in my hometown of Strongsville, Ohio.  First, I want to share a little about myself. I am a junior at Strongsville High School. I am a student athlete, a captain on my girl's varsity basketball team and I run track in the spring.  I wanted to share something very exciting that I recently got involved with and I would love to get your support! 
I am beyond excited to announce to be a part of The Leukemia & Lymphoma Society's (LLS), "Students of the Year" campaign for 2022. I was nominated to lead this challenge by my High School Athletic Director and the Principal of my school. I feel honored and so grateful to be a part of this amazing fundraising experience with LLS!  
What does it mean to be a part of the "Student of the Year" campaign?
This is a seven week fundraising competition between high school students across the northern Ohio region.  The competition starts on January 29th, 2022 and ends on March 19th, 2022. This is an inspiring challenge for high school students to raise funds in hopes to find a cure for people with blood cancer. During this challenge, my team and I are competing against other cities in the area to raise the most money for this great cause.  My team and I are determined to reach our goal of $60,000 and raise even more!

I would like to ask you for your help! 
** Please help me reach our team goal of $60,000 and fight with us against cancer! **

This fundraising project is very personal to me because my grandmother was diagnosed with stage four lung cancer a few years ago. The diagnosis was hard to hear, however, with the help of the medical community, fundraisers, and the many supporters around her, she has overcome her cancer and is now living cancer-free!! I want other patients who are suffering from cancer of all types to have that same outcome!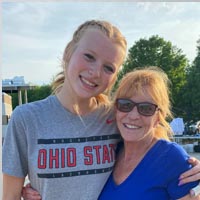 With YOUR help, We can make a difference! 
Please visit my website often and tell friends who would also like to donate!
 
On behalf of blood cancer patients everywhere, thank you for your support! For more information about LLS, please visit www.lls.org