Students of the Year Washington DC
Breana Alcantara | Team Conor's Crew
Hello and welcome to my fundraising page! 
I am honored to be a team member for the Leukemia & Lymphoma Society (LLS) campaign, and I am so excited to work with my team, raising money to save lives over the next 7 weeks. Each dollar donated counts as one vote for my campaign, and the candidate(s) whose team tallies the most votes earns the prestigious title of Student or Students of the Year. This mission goes far beyond the vote; your money will directly impact the momentous work LLS does in research, advocacy, and patient support. Will you help me earn that title and help others gain a future?
 
The generous donations of people like you have been responsible for the blood cancer advancements that have doubled, tripled, and in some cases quadrupled the survival rate for some blood cancers. Many LLS-supported therapies not only help blood cancer patients but are also now used to treat patients with rare forms of stomach and skin cancers and are in clinical trials for patients with lung, brain, breast, pancreatic and prostate cancers. Thanks to your support, LLS-funded drugs, like targeted therapies and immunotherapies, are now saving thousands of lives every day. 
 
With every day and every dollar we truly are getting close to our goal of a world without blood cancers!
 
All donations are greatly appreciated and tax-deductible. They'll not only support LLS research, but patient services, advocacy, public and professional education, and community services as well.
 
Please visit my website often! Conor's Crew is locked in and ready to work! Please share this page with anyone and everyone and don't hesitate to reach out with ideas, comments, or questions!
 
On behalf of blood cancer patients everywhere, thank you for your support!
For a cure,
Breana Alcantara
For more information about LLS, please visit www.lls.org
Hi everyone!
I am Breana Alcantara, a junior at St. John's College High School. I enjoy reading, swimming, and being with my family. Being a student-athlete and an older sister to three incredible young ones, I value strong work ethic and responsibilty. I am committed to contributing my all as a part of this campaign. The mission of the SOY campaign extends beyond my community, and I can't wait to make a difference in the lives of both current and future cancer patients.
The kickoff for our LLS SOY fundraiser is just FIVE DAYS AWAY and I can't wait to make an impact on the lives of those struggling with blood cancer as well as their families. Supporting someone with a serious illness is extremely challenging and wears one down emotionally, physically, and mentally. Before entering high school, there was a short period in which my doctors were concerned about my health, specifically worried about a potential lymphoma diagnosis. During this time, my family and I experienced an emotional rollercoaster that remains unmatched. Recently, we had a similar scare with the same emotions. While I was worried for my own health, I witnessed the stress and the tears that came from my parents. I have been lucky, but others are not. We are fighting for those who cannot end this emotional rollercoaster as my own family has had the privilege of doing. While my direct participation in LLS is only beginning, my connection to the organization has existed for years. I believe that there is a cure but we can only discover this with your help. Join our fight to protect current and future patients and their families. My goal goes beyond raising money; my goal is to change lives and provide hope. We can do it if we stand together. Will you stand with me?
JOIN THE FIGHT!
Conor Dennis Kehoe passed away from T cell acute lymphoblastic leukemia on October 3, 2021 after a ten month battle. He was not yet 3 years old. Conor was a happy, smart, active little boy who loved trucks, ham and cheese croissants, dinosaurs, construction sites and animals. Conor Kehoe was full of life and ready to explore the world. Leukemia took this opportunity from him, and now we're fighting for Conor and a Cure.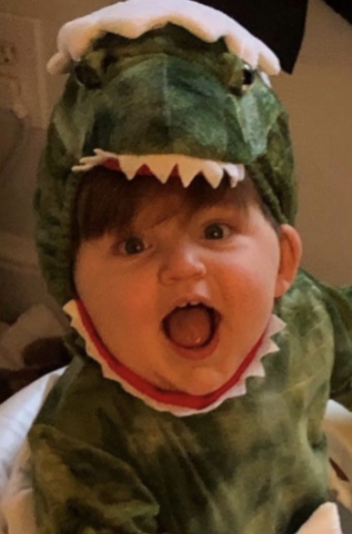 Our team mascot is a dinosaur, a reminder of Conor and how we wish for all children to experience the fullness of life. 4,000 children are diagnosed with leukemia every year in the U.S. alone; there are so many searching for hope, waiting for help and a cure.
Please join us in the fight! Every dollar is a life changing one.