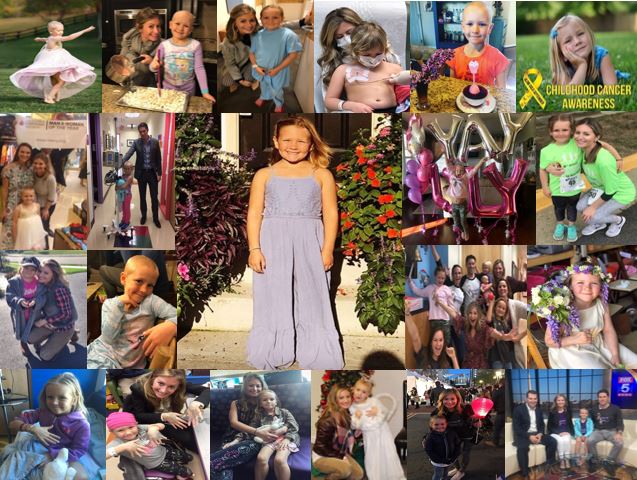 Each year The Leukemia & Lymphoma Society (LLS) launches a 10-week Man & Woman of the Year national fundraising campaign, and I had the privilege of being a  Woman of the Year Candidate in 2017 and was ultimately crowned 2017 Woman of the Year. My team #KickingItWithLily raised over $171,000, received a Community Volunteerism Award and two research grants (Pediatric Cancer & Acute Lymphoblastic Leukemia) in Lily's name. I now join a team of Executive Leaders who continue to strive for a world without cancers. Our 2019 goal is to  raise $225,000 to help support our amazing candidates reach their collective goal of $2.5M!  

Why I chose to get involved with LLS
Over Labor Day weekend 2016, my 5-year-old (at the time) "Fairy Goddaughter" Lily was abruptly diagnosed with Pre-B Cell Acute Lymphoblastic Leukemia also known as A.L.L. Watching her endure grueling rounds of chemotherapy for these past two years has been devastating. She remains strong and resilient, but we need to find a better treatment and ultimately a cure. And, I need your help!
Leukemia is the number one diagnosed cancer in children under the age of 20. In 1964, the five-year survival rate for children with the most common form of leukemia was only 4%. Today, 90% of those will survive. In 2019, 1 in 285 children, adolescents and young adults are expected to be diagnosed with cancer throughout the U.S. In 2017, we saw 18 FDA approvals for new therapies to treat blood cancers. Perhaps the greatest advancement is in the CAR-T immunotherapy use for pediatric leukemia patients.
I have had at least five family members pass from cancers; one not making it past the age of 40 and have personally witnessed my mom battle through thyroid cancer. I wanted to get behind a reputable organization that helps fund cures for all cancers; not just one. Nearly HALF of all cancer treatments approved by the FDA were funded in part by LLS. Many LLS supported therapies not only help blood cancer patients but are now used to treat patients with rare forms of stomach and skin cancers. They're even being tested in clinical trials for patients with a range of cancers including lung, brain, breast, pancreatic and prostate to name a few. LLS-funded drugs are now being tested for patients with other non-cancerous diseases like Diabetes, Rheumatoid Arthritis and Multiple Sclerosis. LLS-funded drugs like targeted therapies and immunotherapies are now saving thousands of lives every day.
Please join me in supporting The Leukemia & Lymphoma Society. All donations are greatly appreciated and are tax deductible. They'll not only support LLS research but patient services, advocacy, public and professional education, and community services as well. None of this would be possible without individuals like you who have helped lead the way to making someday, today.
 
Thank you for your generous support of The Leukemia & Lymphoma Society, one of the world's most respected nonprofit organizations committed to finding cures for cancers. Please feel free to contact me at (703) 309-7299 or jharrison@carrcc.com.

For Cures,
Jessica Harrison