Students of the Year Minneapolis
Katelyn Olson | Team Tumorators
   Hi, I am Katelyn Olson, I'm a sophomore at Totino Grace High School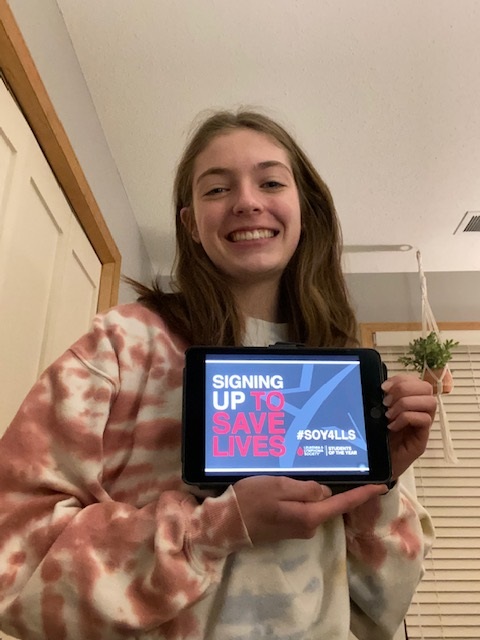 . I am so excited to be a part of the Students Of The Year program! I am so pumped to have such an amazing opportunity to part take in. I have a lot planned over these next 7-weeks. I am overjoyed to be able to help The Leukemia & Lymphoma Society kick cancer to the curb!
Everyone has had some experience with cancer whether it be yourself, mom, dad, sibling, aunt, cousin, friend, grandparent, and more. It has touched every one of our lives. My grandfather died from liver cancer, another one of my grandparents has prostate cancer that spread to his spine, and my uncle died of a brain tumor.
The fact that cancer is a normal part of our lives is horrifying. So many families that don't deserve this, has had this happen to them. Not even to mention what the patient has to go through. They are put through the wringer every day of their treatments to be there for the people who love them most. I am very passionate about this topic and I hope this will touch your heart to consider donating to my campaign. If we all come together, we can find a cure for cancer one treatment at a time!
As you know, everyone wins when cancer loses. Thanks to your support, my efforts will help fund therapies and treatments that are saving lives. Over the years, support from people like you has been responsible for the blood cancer advancements that have doubled, tripled, and in some cases quadrupled the survival rate for some blood cancers.
 
Many LLS-supported therapies not only help blood cancer patients but are also now used to treat patients with rare forms of stomach and skin cancers and are in clinical trials for patients with lung, brain, breast, pancreatic, and prostate cancers. And LLS-funded drugs like targeted therapies and immunotherapies are now saving thousands of lives every day.
 
All donations are greatly appreciated and tax-deductible. They'll not only support LLS research, but patient services, advocacy, public and professional education, and community services as well. One dollar could make some patient's day!
 
This is a competition between high schoolers in the twin cities to see who can raise the most money. Although this is a competition, we are all fighting for this cause together! I am very grateful to have my family support me in this campaign. If you choose not to donate, I challenge you to reach out to that one person that has been deeply touched by this illness and make them smile!
On behalf of blood cancer patients everywhere, thank you for your support! For more information about LLS, please visit www.lls.org