Students of the Year Maryland
Claire Mangan | Cavs 4 a Cure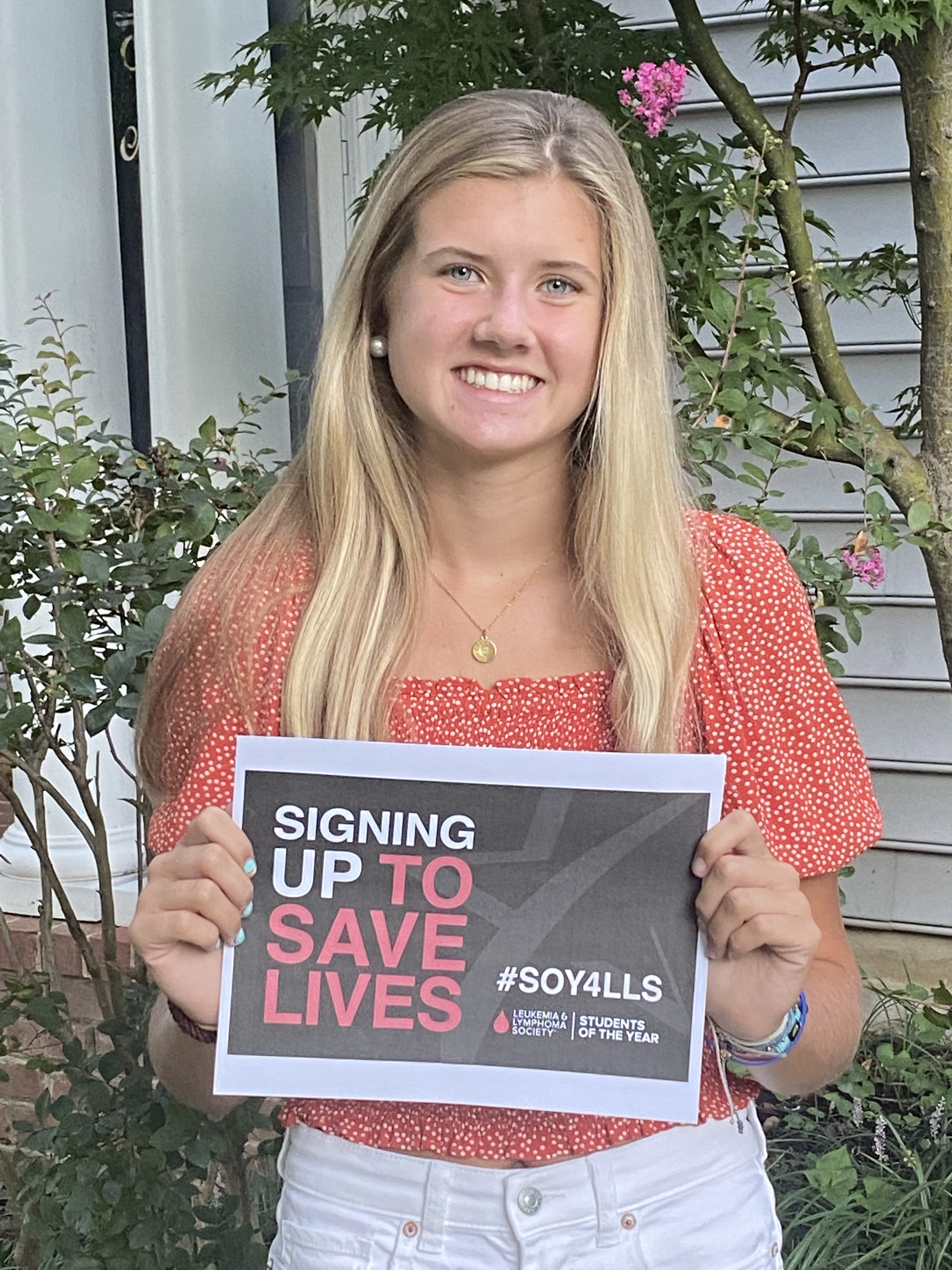 Hi everyone! My name is Claire Mangan, I am honored to be a part of the 2022 Maryland LLS Students of the Year Campaign. With your support, I will be a part of the generation that puts an end to cancer. Cancer is something that has affected my family and probably yours as well. Far too many people have been diagnosed with cancer or even passed away from it. With your help, we can put an end to this terrible disease. Over the next 7 weeks, I will be working diligently to raise awareness for LLS and funds for the mission of research, access, and advocacy. Every dollar raised counts as one vote for my campaign. The candidate whose team tallies the most votes earns the prestigious title of Student of the Year. Will you help me earn that title? 
 I decided to join this campaign in honor of my cousin Katie who is a non-Hodgkin's lymphoma survivor. Her story is truly inspirational. Katie was a vibrant and fun-loving college sophomore at the University of Texas attending football games and studying pre-med until her life was changed forever when she was diagnosed with non-Hodgkin's lymphoma. With the support of her loving family, her talented doctors, and resources and support from LLS, she bravely battled and beat cancer. Her positive attitude, strength, and determination helped her get through her treatments and today is living in remission. But her story does not end there. Today she is a Nurse Practitioner specializing in oncology. In addition, she volunteers with the local LLS chapter in Austin raising awareness and working to find a cure for blood cancers. She is an inspiration and a model for me on how to be a fighter and fight for all the others who are currently battling blood cancer right now and in the future. 
 Everyone wins when cancer loses. With your support, my efforts will help to fund therapies and treatments that are saving lives. Over the years, support from people like you has been responsible for the blood cancer advancements that have doubled, tripled, and in some cases quadrupled the survival rate for some blood cancers. The development of these new lifesaving treatments helped save Katie's life and will continue to save many more.
Many LLS-funded therapies not only help blood cancer patients but are also now used to treat patients with rare forms of stomach and skin cancers and are in clinical trials for patients with lung, brain, breast, pancreatic, and prostate cancers. Additionally, LLS-funded drugs like targeted therapies and immunotherapies are now saving thousands of lives every day.
 We are getting really close to our goal of a world without blood cancers! Your donations are greatly appreciated and tax-deductible. They'll not only support LLS research, but patient services, advocacy, public and professional education, and community services as well.
Please visit my website often and share the link with your friends and family who might also like to make a difference.
My Team
Click on the links below to support my Team Members!
Isabel Baselga
On behalf of blood cancer patients everywhere, thank you for your support! For more information about LLS, please visit www.lls.org