Students of the Year Kentucky
Team Bayer Lange Reibel | HLS for LLS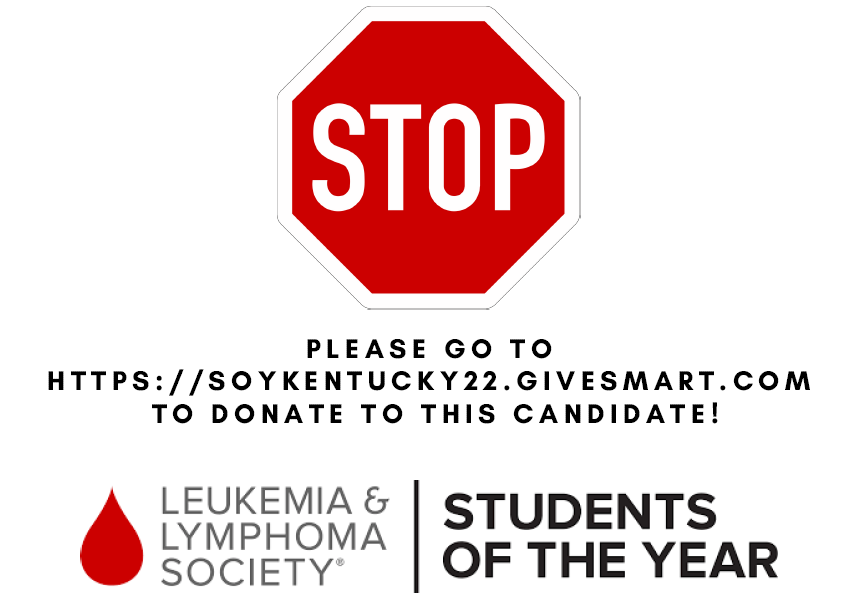 https://e.givesmart.com/events/pKS/
This year, the three of us were nominated to be candidates in the Leukemia and Lymphoma Society's (LLS) 2022 Kentucky Students of the Year campaign. Students of the Year is a seven-week leadership development program that runs from January 28th to March 18th to raise money and advocate for LLS. 
We (Lainey Bayer, Hannah Lange, and Sophia Reibel) partnered to create and lead a team of committed friends throughout our 7-week campaign. Together, we set a fundraising goal of $50,000 and need your help to reach it!! The money raised helps LLS, the largest nonprofit dedicated to creating a world without blood cancers, fund cutting-edge research and treatments.

LLS funds benefit non-blood cancer patients as well. More than 40% of the new cancer treatments approved by the FDA since 2004 that started as blood cancer treatments are now being applied in other forms of cancer. We jumped at the opportunity to join the Students of the Year campaign and raise money for cancer research and treatment in hopes of creating a world without blood cancer. 

This year, the Honorary Hero is Lily Terrell, a 2021 Sacred Heart Academy graduate and lacrosse player. The campaign directly honors her and her fight against cancer. She provides inspiration and support staff to members, event participants, and volunteers who support the mission of the Leukemia and Lymphoma Society, and she serves as a symbol of strength, motivation, support, and determination to everyone. We are amazed at Lily's strength and want to show her how much we admire her. Every donation you make to our effort directly honors her!!

We thank you and advance for partnering with us on a campaign so close to our hearts. All donations are greatly appreciated and tax-deductible. They'll not only support LLS research, but also patient services, advocacy, public and professional education, and community services. Every donation and every dollar makes a difference!
 
Together, we will make a difference!
Lainey, Hannah, and Sophia

On behalf of blood cancer patients everywhere, thank you for your support! For more information about LLS, please visit www.lls.org