Students of the Year Indianapolis
Aarushi Katyayan | Aarushi Katyayan's Team
I am so thrilled to have accepted my nomination to participate in the 2022 Indianapolis Students of the Year program!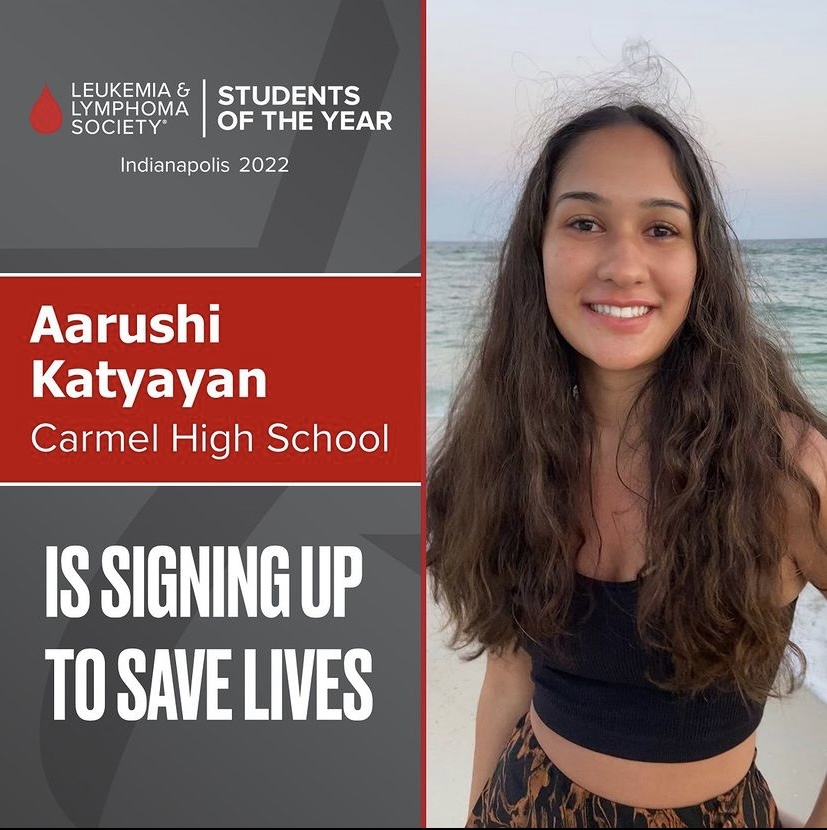 I decided to accept my nomination for this program in order to further my involvement in the medical field. Throughout high school, I have become more involved in extracurriculars that strive to create a better atmosphere for the disadvantaged in my community and reduce the impact of their daily challenges. This is a similar goal I hope to achieve through LLS. My goal is not only to raise money for future research and treatments but to also spread awareness of the obstacles families and children face when suffering from blood cancers such as leukemia, lymphoma, and other blood diseases. As I enter the next phase in my academic journey, I hope to expand my dedication to the betterment of children's lives and health through child studies and pediatrics. 
The Leukemia & Lymphoma Society has been on a mission to save and improve cancer patients' lives for over 70 years. With the LLS Children's Initiative, we're advancing pediatric research globally, bringing together doctors, pharma, researchers, and scientists to find safer, less toxic, more effective treatments. After reading the young blood cancer survivor stories, my urge to improve the lives of children only grew stronger. LLS has helped improve the quality of life for millions of families across the country while investing billions of dollars towards finding a cure. They have helped advance 85% of the blood cancer treatment options approved by the FDA since 2017. I wanted to be a part of that change and you can be too!
The Student's of the Year fundraising challenge is not about who comes out on top and raises the most money. It is about joining together as a team to take a stand in the fight against blood cancer. Whatever amount you choose to donate, please know that every dollar counts! Every dollar donated is a vote to cure cancer regardless of my place in the competition. Thank you for your donation in advance and your contribution to our fight against blood cancers everywhere!
I have signed up to save lives with the Leukemia & Lymphoma Society (LLS) and am working to raise as much as possible over the next 7 weeks. Every dollar raised counts as one vote for my campaign. The candidate(s) whose team tallies the most votes earns the prestigious title of Student or Students of the Year. Will you help me earn that title?

As you know, everyone wins when cancer loses. Thanks to your support, my efforts will help fund therapies and treatments that are saving lives. Over the years, support from people like you has been responsible for the blood cancer advancements that have doubled, tripled, and in some cases quadrupled the survival rate for some blood cancers.

Many LLS-supported therapies not only help blood cancer patients but are also now used to treat patients with rare forms of stomach and skin cancers and are in clinical trials for patients with lung, brain, breast, pancreatic and prostate cancers. And LLS-funded drugs like targeted therapies and immunotherapies are now saving thousands of lives every day.

We really are getting close to our goal of a world without blood cancers!

All donations are greatly appreciated and tax-deductible. They'll not only support LLS research, but patient services, advocacy, public and professional education, and community services as well.

Please visit my website often and tell friends who would also like to donate!

On behalf of blood cancer patients everywhere, thank you for your support! For more information about LLS, please visit www.lls.org