Students of the Year Augusta
Team Curing4Kennedy | Team Curing4Kennedy
We, Marissa Wetzel, Landon Barden, and Hailey Meteraud, and our team of other students, are very excited to have been nominated to participate as candidates for The Leukemia & Lymphoma Society's (LLS) Students of the Year Campaign. The Students of the Year campaign (SOY) is a seven-week fundraising competition to raise money and awareness for LLS. We ask today for your support of our campaign and LLS's mission to find cures for blood cancers and to assist patients and their families. LLS's mission also goes beyond blood cancer by now helping patients with other cancers and diseases. We have been given an opportunity to help others and we cannot do it without your support!
Our Story- Marissa's Grandmother: As many of you know, our connection to cancer has been deep and personal. In 2016, Marissa's grandmother, Claire Brooks, died of brain cancer. Because of this, Marissa didn't get to grow up with a grandmother, and her grandmother didn't get to experience a long life with her family. We want to ensure that these same hardships do not affect others. 
Our Heroine- Kennedy Martin: Kennedy, our honored hero, is now fourteen and has been fighting T-Cell Lymphoblastic Lymphoma for two years. Due to difficulty breathing, Kennedy's pediatrician rushed her to the hospital where she was diagnosed with cancer in her chest. Since then, she has endured infusion chemotherapy, spinal taps, oral chemotherapy, and more. She is trying to slowly get back to a normal life as she suffers many side effects. 
We want to help anyway we can to make it possible for more people to beat this disease. These personal ties give us the motivation to help make a difference on their behalf. Our campaign provides an opportunity to support the critical work of LLS in fighting these diseases. Please join us in fighting for the cure!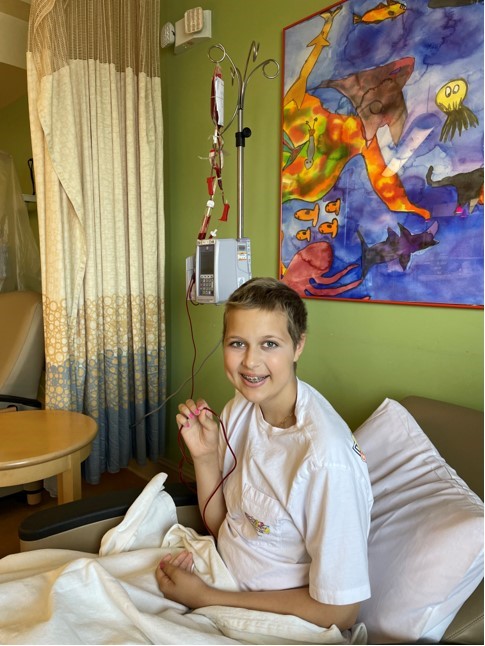 I have signed up to save lives with the Leukemia & Lymphoma Society (LLS) and am working to raise as much as possible over the next 7 weeks. Every dollar raised counts as one vote for my campaign. The candidate(s) whose team tallies the most votes earns the prestigious title of Student or Students of the Year. Will you help me earn that title?

As you know, everyone wins when cancer loses. Thanks to your support, my efforts will help fund therapies and treatments that are saving lives. Over the years, support from people like you has been responsible for the blood cancer advancements that have doubled, tripled, and in some cases quadrupled the survival rate for some blood cancers.

Many LLS-supported therapies not only help blood cancer patients but are also now used to treat patients with rare forms of stomach and skin cancers and are in clinical trials for patients with lung, brain, breast, pancreatic and prostate cancers. And LLS-funded drugs like targeted therapies and immunotherapies are now saving thousands of lives every day.

We really are getting close to our goal of a world without blood cancers!

All donations are greatly appreciated and tax-deductible. They'll not only support LLS research, but patient services, advocacy, public and professional education, and community services as well.

Please visit my website often and tell friends who would also like to donate!

On behalf of blood cancer patients everywhere, thank you for your support! For more information about LLS, please visit www.lls.org