Students of the Year Lehigh
Team 3A | Team 3A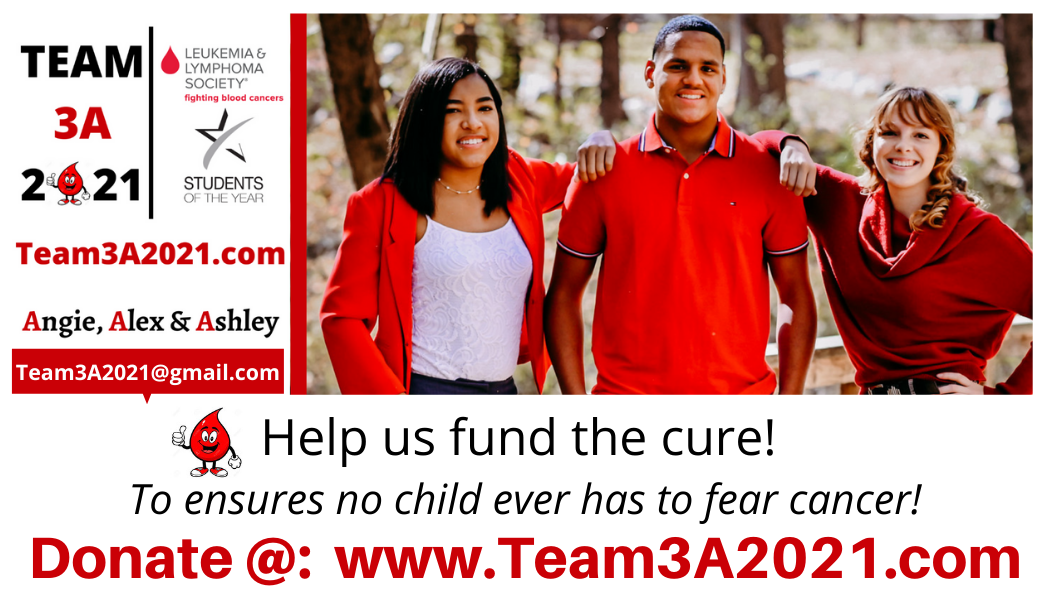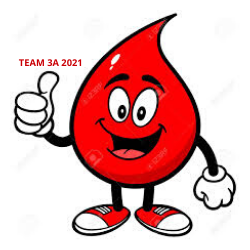 Welcome To our Team 3A 2021 Fundraising Page. 
Alex, Angie, and Ashley have partnered up for the 2021 Leukemia and Lymphoma Society Students of the Year Campaign with the goal of annihilating cancer. We want to work towards a future where no child and their families has to fear the words "you have cancer." Students of the year is a 7 week campaign to raise funds and awareness for those battling cancer. The 2021 campaign will run from January 12th through February 27th, the team raising the most money during the campaign will be crowned Students of the Year. Our goal is to at least raise enough money to fund a research grant in honor of those who battle this disease everyday! In the end every dollar raised is a victory for those in the battle and the only loser is cancer! We hope you will join us in our campaign to #Annihilatecancer!
Our Honored Super Hero, McCoy!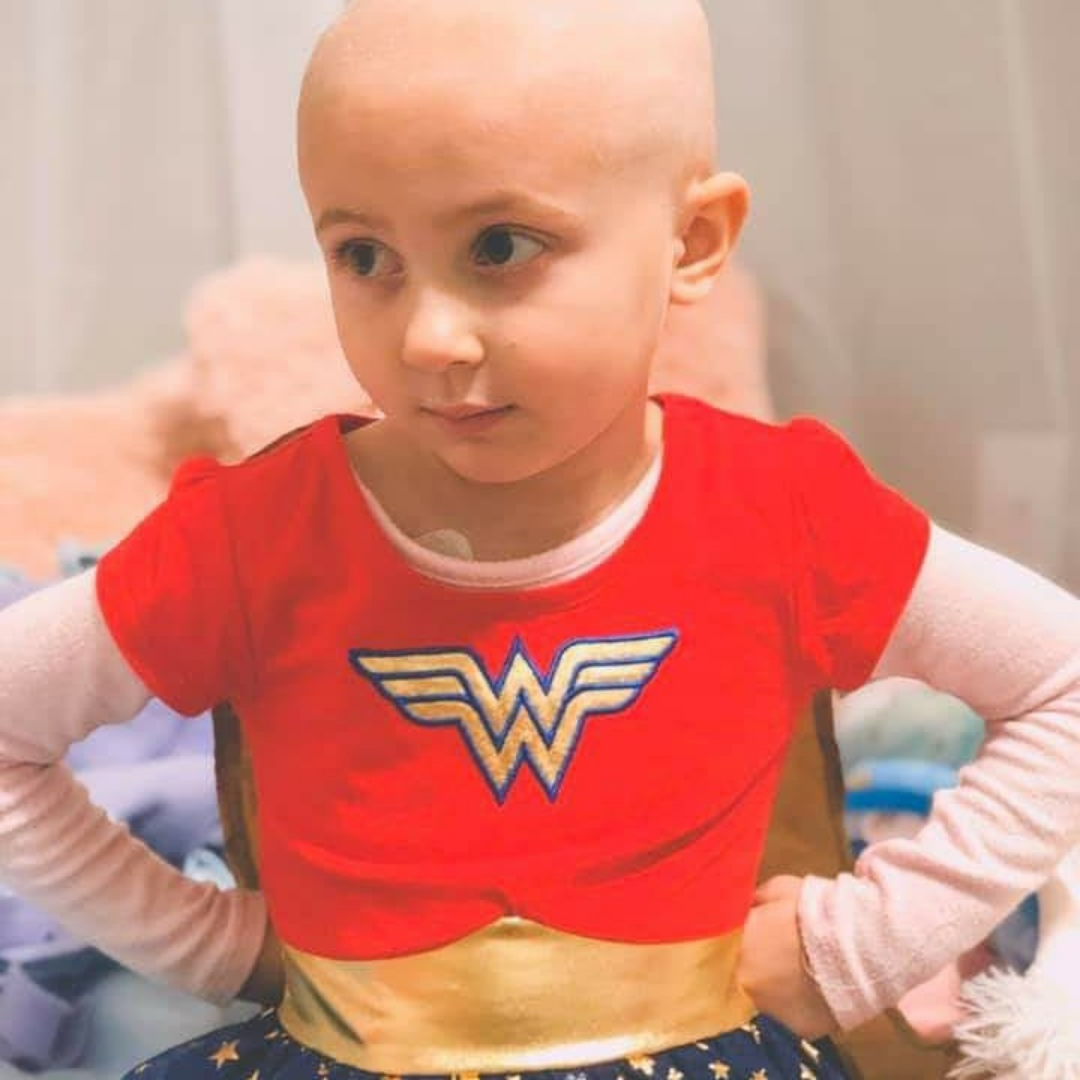 McCoy's Story: Laura Schiffer-Rapa
"When we found out, we were blindsided," she said. "Pediatric cancer seems exceptionally dreadful, and it is. Being faced with a child's mortality is unnatural and goes against what we believe to be true. Being faced with your own child's mortality is unbearable."
McCoy, the only child of Schiffer-Rapa and her husband, Matthew, presented with cold symptoms and a low-grade fever. As symptoms continued, blood work showed something more serious needed to be addressed.
"The doctor actually called us at 3 a.m. and said you need to get her to the emergency room," Schiffer-Rapa said. "When we heard leukemia, you just hit your knees. It was the scariest moment of my life. It shook our family to the core."
Life changes on a dime
Before her diagnosis, McCoy was the typical 4-year-old full of sass and questions. She loves princesses and horses and, according to her mother, especially princesses who have horses.
"She was thrilled when Elsa received a horse in 'Frozen 2' because a reindeer just wasn't cutting it," Schiffer-Rapa said during a speech for the Pediatric Cancer Foundation of the Lehigh Valley Hearts of Gold UN-Gala last month. "She danced and hugged aggressively that you know she meant it."
Things changed, however, and McCoy became afraid of human touch from anyone other than her parents. She gained weight, then lost weight. She lost her hair and the ability to walk up stairs and run to her playset.
"So many things that people take for granted, she fights for every day," Schiffer-Rapa said. "I will not diminish the disease's sheer destructive power, but I have learned there is much beauty in this journey. Sometimes your darkest hours coincide with your brightest moments."
Why LLS?
LLS's continued advancements over the years, are responsible for the blood cancer survival rate doubling and tripling; in some cases, the survival rate has even quadrupled.
And many LLS supported therapies not only help blood cancer patients but are now used to treat patients with rare forms of stomach and skin cancers. They're even being tested in clinical trials for patients with a range of cancers including lung, brain, breast, pancreatic and prostate cancers. LLS funded drugs are now being tested for patients with other non-cancerous diseases like Diabetes, Rheumatoid Arthritis and Multiple Sclerosis.
We really are changing the face of blood cancer!
All donations are greatly appreciated and are tax deductible. They'll not only support LLS research but patient services, advocacy, public and professional education, and community services as well.

Become a Sponsor of Team 3A 2021 
 Team 3A 2021 (Alex, Angie, & Ashley) LLS  Students of the Year "Campaign for a Cure" Sponsorships
____ Campaign Sponsor $2,500 - Scrolling ad during Finale, full pg ad, all events, all social media, 
____ Mission Sponsor $1,500 - Full pg ad, events, social media
____ Research Sponsor $1,000 - Full pg ad, events, all social media 
____ Courage Sponsor $500 - ½ pg ad, all social media
____ Strength Sponsor $250 - ¼ pg ad, 2 social media
____ Hope Sponsor $100 - 1 social media
Partner Information
Company Name:  _____________________________________________________________
Company Contact Name: ________________________    Title / Position: __________________
Company Address: ______________________________________________________________
Phone Number: ______________________  Email Address: _____________________________
Authorized Signature:_______________________________        SOY Candidate: Team 3A 2021
Company Website: __________________________________   

Twitter:  _________________________________

Instagram: ________________________________  
To be an LLS Students of the Year sponsor, we must receive your signed contract, Thank you!
Payment Information:  Payment may be made by check or credit card after January 7, 2021.
* Payment must be received no later than February 20, 2021. *The Gala Ad will appear in the Finale Digital Program viewed by over 500 people from NEPA.  LLS EIN: 13-5644916
Please email us for a form & return this form to:
Team 3A 2021
580 Oak St, Stroudsburg, PA 18360
Contact Campaign Manager: Robert Yarnall (570) 460-0257
Email:  team3a2021@gmail.com
Please visit our Web site often and bring friends who would also like to donate! www.Team3A2021.com
On behalf of blood cancer patients everywhere we thank you for your support!
For more information about LLS, please visit lls.org