Students of the Year Central Pennsylvania
Adrienne Mitford | Team M.E.G.
I am proud to support Team M.E.G.: Mom's Everlasting Gift and Meghan McNally for Student of the Year!
Join us in the fight to beat blood cancer!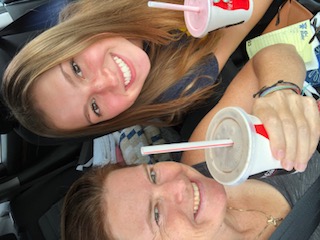 In July 2015, Meghan's mother, Ginger, was feeling a bit short of breath. She had returned to work as a night shift secretary on the Cancer Floor at Hershey Medical Center just a couple months prior. I'll never forget Ginger telling me that she thought she had high blood pressure. She was getting shortness of breath walking up a few stairs and knew something wasn't right. Ginger was called back to her doctor after her first visit, as they thought something was wrong with the blood sample. She stopped in to the doctor on the way home from work to have more blood drawn. Later that day, she was told to go to the Hershey Medical Center and tell them she needed a blood transfusion. That evening she was diagnosed with leukemia.
Over the next few months, Ginger endured chemotherapy, radiation, a bone marrow transplant, and was involved in clinical trials. She spent most of the fall in the hospital, coming home for brief periods of time. Around Thanksgiving, Ginger developed a lung infection and was taken to the ICU. She was put on a ventilator and the prognosis was not good.
A couple weeks later, the family was told they were out of options. Something no family should hear. Ginger passed away on December 17, 2015.
The kids were 9, 11, and 13 at the time.
In 2018, Meghan learned about Student of the Year and started getting involved helping with campaigns. At first, it was running in a 5K, then she hosted an event for a candidate. Last year, she held sponsorship meetings ... and that all brings her to running her own campaign for Student of the Year in 2022!  We helped Crushin' Cancer raise $144,419 last year and have set a big goal for Team M.E.G.: Mom's Everlasting Gift. As Meghan says in her video, the first goal is to raise $50,000 to name a research grant in memory of Ginger.
All donations are greatly appreciated and 100% tax-deductible. Donations not only support LLS research, but patient services, advocacy, public and professional education, and community services as well.
 
Please visit this website often and tell friends who would also like to donate! We will be having events- both in-person and virtual throughout the campaign. We invite you to join us to beat blood cancer!