Students of the Year San Luis Obispo
Colton Campa | The Blood Runners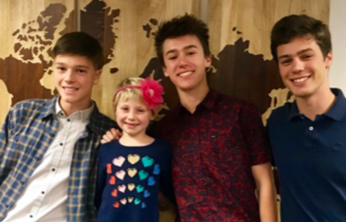 Dear Friends and Family,
I have been given the opportunity to help a cause that is close to my heart. Each year The Leukemia and Lymphoma Society (LLS) launches its Student of the Year fundraising campaign. Along with two of my closest friends and cross-country teammates, I am honored to be a candidate for Student of the Year on "Team Blood Runners". Students of the Year is a seven week spirited fundraising campaign which runs March 13th - May 3rd, to help support the mission of the LLS in its efforts to find cures for blood cancers and to assist patients and their  families. I could not be more excited to make a difference in the lives of patients across the country!
The reason I got involved with Student of the Year was because one of my best friends and teammates, Justin Hatcher, was sick and hospitalized when he was 9. He went from being an active kid one day to someone being put under for brain surgery. There are so many sick children spending day after day in the hospital, when all they want to do is be with their friends in school and playing outside.
Two people like this are our SLO County Girl and Boy of the Year, Claire Noland (age 6) and Mateo Cota (age 7), which are pictured below. Claire, who now enjoys visiting children in the hospital and someday wants to be a doctor, is in remission after going through 6 rounds of chemotherapy for lymphoma. Mateo, aka the "Beast" does not let his illness get in the way of playing baseball, having fun and just being a kid. He is currently recovering from a bone marrow transplant from his older brother, after being in treatment for leukemia for most of his life. By raising funds for LLS we honor patients like Claire and Mateo, so that one day others won't have to go through what these amazing kids have experienced while in treatment. I am asking for your help to reach our team fundraising goal of $15,000. Please consider making a tax-deductible donation!
To donate online, please visit my fundraising page through this link: https://events.lls.org/cca/slosoy2019/ccampa. Should you donate online, you will receive a confirmation of your donation by email and I will be notified as soon as you place your donation. If you would prefer to donate by mail, please make your check payable to: The Leukemia & Lymphoma Society and print "Colton Campa" in the memo section.
Checks can be mailed to: Colton Campa, 821 Lawrence Dr. San Luis Obispo, CA 93401. The deadline for receiving contributions via mail is 5/1/19 or via the online link 5/1/19. Please feel free to share this message and link with your friends and family. Many may have a connection to cancer and might be moved to contribute to this great cause. Thank you so much in advance for supporting me in this fundraising opportunity to help the Leukemia and Lymphoma Society in finding a cure for blood cancers.
Sincerely,
Colton Campa